Is it OK to meet up with friends and family at a social distance?
Useful information on family/friend social distancing. Be safe!
Last night saw Prime Minister (and new father) Boris Johnson address the country with an update on the coronavirus lockdown, namely tweaking some of the rules in England. Wales, Scotland and Northern Ireland are continuing with the previous guidelines of staying at home as much as possible, other than venturing out for essentials or exercise (which in Scotland is now allowed more than once a day).
However, Boris' new announcement of a "conditional plan" has left some a tad confused – many are wondering if it's now okay to meet up with friends and family outside of your household, if you're socially distancing, say in an outdoor space like a park or a beach? And if so, how many can you meet with?
During his speech, after stressing that any modified terms were subject to the deaths from infection continuing to decline, Boris said, "From this Wednesday, we want to encourage people to take more and even unlimited amounts of outdoor exercise. You can sit in the sun in your local park, you can drive to other destinations, you can even play sports but only with members of your own household,"
Boris also explained the new rating system: "Level One means the disease is no longer present in the UK and Level Five is the most critical – the kind of situation we could have had if the NHS had been overwhelmed." Currently, he said, the UK is approaching a 3, but is still at a 4. The PM also said fines will increase for anybody seen breaking the social distancing rules.

"If you're out in the park and you're 2 metres apart… you can meet up with other people"

Foreign Secretary Dominic Raab says two people from different households can meet outside in England under plans to reopen society.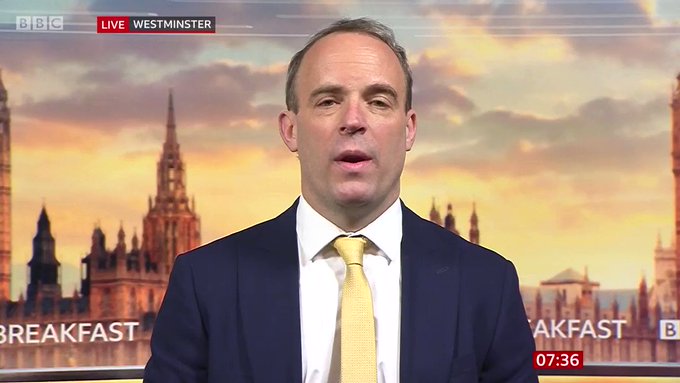 Speaking to the BBC earlier this morning, Foreign Secretary Dominic Raab attempted to clear up some of the uncertainty. "If you go out of home, to the park for exercise, you can go with members of your own household. If you're out in the park and you're 2 metres apart, we're saying now, and use some common sense, and socially distance, you can meet up with other people."
Raab then went on to say, "The key thing is, people want to get outdoors particularly with this weather, for mental health and frankly, the frustrations people feel if they're cooped up too long for protractive periods.
We want to make sure that people can enjoy the outdoors more, but people must stay alert."
The more we do some of the things we want to do, the more we need to just be careful about this social distancing. If people keep those 2 metres social distancing they'll be fine in those outdoor spaces."
One viewer asked for clarification on the number of people you're able to see in a day, using the example of meeting his mother in the morning and father in the afternoon. Again, Raab said that it's fine to do so, implying that it's okay to meet one person from outside of your household in an open space, as long as there's a 2m distance between you.
However, there's further confusion as to whether or not Raab should actually be giving out such advice, given that it's not in-keeping with the government's official line. Hmm… yep, we're mystified too!
Do you agree with Raab's advice or are you completely quarantined from your love ones?