Rapper Slim Thug has now revealed he tested positive for COVID-19. Begs young people to take this seriously.
Slim Thugis imploring folks in Houston — and young people everywhere — to start taking coronavirus seriously, and he hopes his diagnosis is a wake-up call.
The H-town rapper joined us Wednesday on "TMZ Live" and told us too many people in his hometown are taking the pandemic lightly, and it's time for everyone to open their eyes to the danger. In fact, Houston and surrounding Harris County have seen a surge in COVID-19 cases this week.
Slim said he was being super cautious weeks ago, wearing gloves and masks, but he still managed to contract the virus … and his worst fears were confirmed with Tuesday's positive test.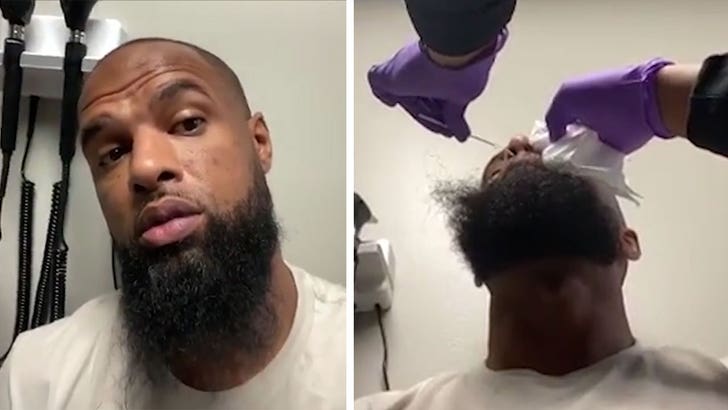 GETTIN' TESTED@slimthug
He said he can tell people continue to bury their heads in the sand because some think he's getting paid to say he has the virus. Houston finally issued a "stay at home" order Wednesday, but Slim says he was shocked to see spring breakers earlier this month packing nightclubs.
Bottom line for Slim … the fact he got infected despite actively trying to protect himself should make people think twice about refusing to stay at home.

Other Celebs listed below:
Albert II, prince of Monaco, 62.
John Bessler, 52.  Law professor, husband of Sen. Amy Klobuchar.
Jackson Browne, 71. Singer-songwriter.
Charles, prince of Wales, 71.
Andy Cohen, 51. Talk show host.
Jason Collins, 41. Retired NBA player, Stanford basketball star.
Placido Domingo, 79. Opera singer.
Kevin Durant, 31. NBA player, formerly with Golden State Warriors.
Idris Elba, 47. Actor: "The Wire," Heimdall in the Thor/Avengers movies.
Rudy Gobert, 27, and Donovan Mitchell, 23. NBA players, Utah Jazz.
Tom Hanks, 63, and Rita Wilson, 63. Actors.
Daniel Dae Kim, 51. Actor: "Lost," "Hawaii Five-O"
Charlotte Lawrence, 19. Singer-songwriter, model.
Debi Mazar, 55. Actor: "L.A. Law," "Goodfellas"
Rand Paul, 57. U.S. senator from Kentucky.
Francis Suarez, 42. Mayor of Miami.
Sophie Trudeau, 44. Wife of Canadian prime minister Justin Trudeau.
Colton Underwood, 28. "Bachelorette" contestant and subsequent star of TV's "The Bachelor," played on practice squads of NFL's Chargers, Eagles and Raiders.
Harvey Weinstein, 68. Film producer, currently imprisoned in New York for sexual assault and rape.
Floyd Cardoz, 59. Celebrity chef, "Top Chef Masters" winner. Died March 25 after diagnosis of COVID-19. He had been feeling unwell for about a week since returning from a trip to his native India.
David Edwards, 48, and Lee Green, 49. Standout college basketball players in the 1990s for, respectively, Texas A&M and St. John's. Deaths announced March 23, not officially confirmed as COVID-19 deaths.
Manu Dibango, 86. Saxophonist from Cameroon, best-known for his 1972 hit "Soul Makossa," whose hook Michael Jackson used in "Wanna Be Startin Somethin." Died March 24 in Paris.
Terrence McNally, 81. Playwright and screenwriter: "Love! Valour! Compassion!", "Frankie and Johnny in the Clair de Lune," "Master Class." Died March 24.