Let's welcome and meet the new First Lady!!
Given Joe's lengthy political career and former role as Vice President, the Biden family is no stranger to the spotlight. The family's matriarch, Dr. Jill Biden, is known by many for her decades-long career as an educator, her advocacy work as second lady, and for being one half of a political power couple.
Now that Joe Biden was just elected President of the United States, we know that Jill Biden will be the nation's next First Lady. While the results have taken some time to count, Joe Biden won both the popular and electoral votes, and will be sworn into office this January. Throughout this period of uncertainty, Jill has stood by her husband's side. On election night, she waited with Joe as results came in—the pair watched the election from Delaware. Prior to that, the duo has been on the road, with Jill giving her own powerful speeches, spreading Joe's political message. The night before the election, she and Joe were even joined by Lady Gaga at a Pittsburgh drive-in rally. The former second lady has also been very active on her Instagram account, sharing important voting information with her followers.
Below, find everything you need to know about our next First Lady, and her lengthy tenure in the political spotlight.
Much of the Democratic National Convention's second night focused on Jill Biden. The former second lady was introduced with a video, featuring her family members, friends, and aides describing her character, interests, and goals. Jill and Joe Biden told the story of how they met and began dating and Joe relayed Jill's importance in rebuilding his family after the tragic death of his first wife and young daughter. Jill's family also spoke about her love for running, teaching, and pulling pranks on unsuspecting bystanders—an anecdote describing how Jill brings home dead snakes to scare people pretty much stole the show.
Following the video, Jill returned to her old classroom to address the nation, though noted that this year, school looks different than ever before. Many students are attending classes virtually and, for schools returning in person, some educators are scared about putting themselves and their families at risk.
"You can hear the anxiety that echoes down empty hallways," Dr. Biden said. "There's no scent of new notebooks or freshly waxed floors. The rooms are dark as the bright young faces that should fill them are now confined to boxes on a computer screen."
"How do you make a broken family whole?" she asked. "The same way you make a nation whole. With love and understanding, and with small acts of kindness. With bravery. With unwavering faith."
Dr. Biden concluded her speech by praising her husband, describing his capability, compassion, and strength. She argued that Joe Biden can bring the country back together, just like he did for his own family.
"The burdens we carry are heavy, and we need someone with strong shoulders," Jill said. "I know that if we entrust this nation to Joe, he will do for your family what he did for ours. Bring us together and make us whole, carry us forward in our time of need, keep the promise of America for all of us."
Biden, who is 67, was born Jill Tracy Jacobs in Hammonton, New Jersey, and later moved to Willow Grove, Pennsylvania. The eldest of five sisters, Jill was raised by her father Donald, who worked at a savings and loan bank, and Bonny, a homemaker. Jill graduated from Upper Moreland High School in 1969, and then headed to a junior college in Pennsylvania to study fashion merchandising, according to Vogue. But the fashion path didn't stick, and soon Jill was on to her next act.
In February 1970, Jill married Bill Stevenson, and the two decided to enroll in the University of Delaware together. The couple drifted apart throughout college, and soon divorced. Around the same time, Joe Biden was working through heartbreak of his own: just weeks after being elected senator in 1972, his wife, Neilia, and 1-year-old daughter, Naomi, died in a car accident. (Joe's other two children, Beau and Hunter, were in the car but survived).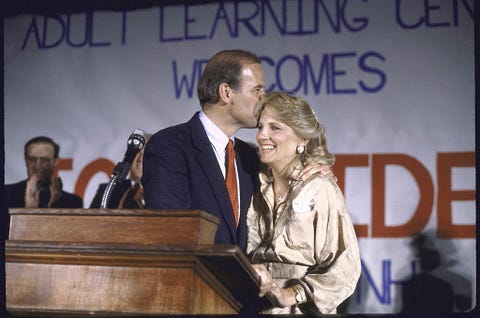 In 1975, Jill and Joe met on a blind date coordinated by Joe's brother. Despite the fact that Jill was still in college and Joe was a senator with two children (and nine years Jill's senior), their connection was instant. "We went out to see A Man and a Woman at the movie theater in Philadelphia, and we really hit it off," Jill told Vogue about their first date. "When we came home…he shook my hand good night. I went upstairs and called my mother at 1:00 a.m. and said, 'Mom, I finally met a gentleman.'"
Joe proposed to Jill five times before she finally accepted. "By that time, of course, I had fallen in love with the boys, and I really felt that this marriage had to work," Jill said. "Because they had lost their mom, and I couldn't have them lose another mother. So I had to be 100 percent sure."
They married in June 17, 1977 at the United Nations chapel in New York City in an intimate wedding—with Beau and Hunter at the altar with the couple.
In 1981, Jill and Joe welcomed their daughter Ashley, and the Bidens raised their three children in Wilmington, Delaware. As a senator, Joe famously commuted back and forth from Washington to Wilmington daily so he could spend time with Jill and their children. Now, the couple have five grandchildren: Naomi, Finnegan, Maisy, Natalie, and Hunter.
After graduating from University of Delaware in 1975, Jill started working as an English teacher in local public schools and at a psychiatric hospital. Jill also earned two master's degrees—one in reading from West Chester University in 1981, and a second master's in English from Villanova University in 1987—while working and raising her family. Jill taught English and worked as a reading specialist in Delaware public schools, and later taught English Composition at Delaware Technical and Community College, a position she held for 15 years. In 2006, Jill went back to school for yet another degree, and earned a doctorate in education from the University of Delaware in 2007.This content is imported from Instagram.
As second lady, she continued working as a full-time professor at Northern Virginia Community College—even more notable because Jill is thought to be the first second lady to hold a paying job during her husband's time as Vice President, according to Los Angeles Times.
Once her husband is sworn in, Jill plans on working two jobs: First Lady and English professor. Given that she worked as a full-time educator while second lady, doing double duty shouldn't be too big of an adjustment.
Biden believes that having her own life and work, outside of her husband's shadow, makes a major difference in her well-being. She does not think that her career impacts her ability to be a great political collaborator.
The Biden family has been heavily involved in cancer research and care initiatives for decades. It's an emotional cause for the family: Beau was diagnosed with brain cancer in 2013, and died two years later at the age of 46.
After Beau's death, Joe and Jill quickly became the face of a national effort to end cancer. Specifically, Joe was tapped by Obama to lead the White House Cancer Moonshot in 2016. But Jill's involvement in cancer prevention started long before Beau's diagnosis. After four of her friends were diagnosed with breast cancer in 1993, Jill founded the the Biden Breast Health Initiative in Delaware, with the primary goal to educate young women on the importance of early cancer detection.
Once she became second lady, Jill adjusted to running with the Secret Service by her side. "I usually have someone ahead of me and someone behind me," Jill said. "I just say to them, 'I need to pretend you're not here,' because I love to run by myself, and they're pretty respectful of that."
Jill has often shown her commitment to her husband's candidacy, and remains one of her husband's biggest supporters.
At Biden's Super Tuesday rally, two women stormed the stage where Biden was speaking, holding "let dairy die" signs. The Anti-Dairy protestors, however, did not stand a chance against the former second lady. Jill, along with Biden's senior advisor, Symone Sanders, quickly jumped into action, physically restraining the protestors. Jill used her body to block the activist from her husband, protecting him from possible danger.
As one can imagine, the photos and video from this defensive act quickly went viral. Dr. Jill Biden pushes away an anti-diary protester who jumped on stage and interrupted her husband Joe Biden's rally in Los Angeles.
Jill was quickly lauded on social media, with users calling her a "badass" and a "warrior." Relatedly, this is not the first time Jill has physically protected her husband from protesters. According to ABC News, just last month, Jill personally escorted out a man who was heckling and filming Joe at a campaign event.
"I thought I've got to do something right now," Jill told the anchors of The View. "You've got to protect those you love, right?"